Latest issue of Index on Censorship out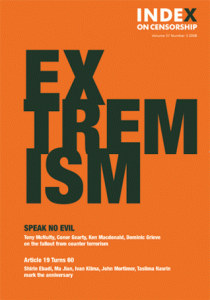 The latest edition, in shops from Friday 12 September, Index on Censorship takes on the issue of our time: extremism. It's now one of the most common triggers for censorship since 9/11. Downloading the wrong kind of material or even wearing the wrong kind of T-shirt can be grounds for arrest, detention and prosecution. From media freedom to the right to protest, Index cross-examines the casualties of counter terrorism: with Minister for Security Tony McNulty MP, journalist Shiv Malik, Shadow Home Secretary Dominic Grieve MP, and human rights lawyers Conor Gearty and Imran Khan.
Also in this issue: Index looks back at the historic landmarks for free speech in the 60th anniversary year of the UN Declaration of Human Rights. Some of the bravest and most outspoken writers and lawyers of our day take the temperature for free expression: Nobel prize winner Shirin Ebadi, novelists Ivan Klima, Ma Jian and Taslima Nasrin, and author and barrister John Mortimer.
For a full list of stockists, and details of how to subscribe, click here
You need to upgrade your Flash Player to view interactive map